Who We Are
Bear one another's burdens, and so fulfill the law of Christ, Gal 6:2
---
How Did OneRunTogether Begin?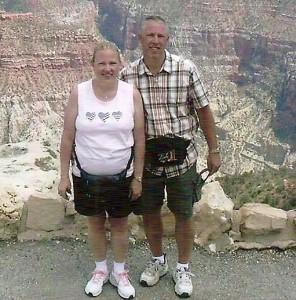 Through my life, I have been involved in many sports, but surprisingly running was not one of them. I hated to run just for the sake of running.
That changed on November 13, 2009 after my loving wife Beth passed away. She was 46 years old, and she had battled breast cancer for 9 years.After that happened, I needed something to help me sleep and focus. So I began running.
After I lost my job in June of 2011, God began to reveal a plan for my life. On August 26, 2011, I founded OneRunTogether, Inc. On August 28, 2012 it became a federally recognized non-profit organization. Now we are making a difference in the life of each cancer patient we assist.
God has given me the vision and passion to raise money for cancer patients. I do this because I know firsthand the financial and emotional devastation that cancer can have on a family. My hope and goal is to ease their burdens as much as possible and to show them the love of Jesus Christ.
Vernon Murphy, Executive Director & Founder
---
| | | |
| --- | --- | --- |
| Mission | Vision | Philosophy |
| The mission of OneRunTogether is to financially and spiritually benefit local cancer patients. | The vision of OneRunTogether is to support local cancer patients and their families through the selfless donations of our community. | OneRunTogether is an organization that glorifies God through team outreaches that assist local cancer patients and their families. |
  OneRunTogether, Inc. Policies, Publications Bylaws & Articles of Incorporation
OneRunTogether, Inc. 1023 Letter of Approval for 501c3 Status 
OneRunTogether,Inc. 990 E-Z and BCO-23